Update April 27, 2022
Fahmi Reza banned from leaving the country. He sells a work in NFT in support of freedom of expression.
Like his colleague Zunar in 2016, Malaysian artist Fahmi Reza is now subject to a travel ban. He learned that he had been blacklisted by the immigration authorities and barred from renewing his passport during a visit to the police station.
Earlier in the month, he was arrested and questioned about the satirical cartoon depicting a monkey dressed in royal attire, Monyet Istana (Palace Monkey). For that cartoon, he is being investigated under the Sedition Act, and Section 233 of the Communications and Multimedia Act (CMA). If convicted, he faces a fine of up to RM 100,000 and a two-year prison sentence.
As a symbolic act of protest against his arrest and detention for the above-mentioned artwork, and as a symbolic act to defend the right to freedom of expression, he released another version of the work as an NFT.
According to the artist, all the proceeds from this NFT sale will be donated to a Legal Defense Fund aimed at supporting fellow Malaysians who are being investigated and prosecuted for exercising their right to free speech.
The NFT sale was launched at 9pm (Malaysia time) last night and will lasts for 48 hours.
Official NFT site: https://monyetistana.com
To purchase: https://monyetistana.com/buy
The press release is copied below.
Cartooning for Peace supports the artist and is concerned about this new level of action by the country's authorities. We call for the fundamental freedoms of Fahmi Reza to be respected.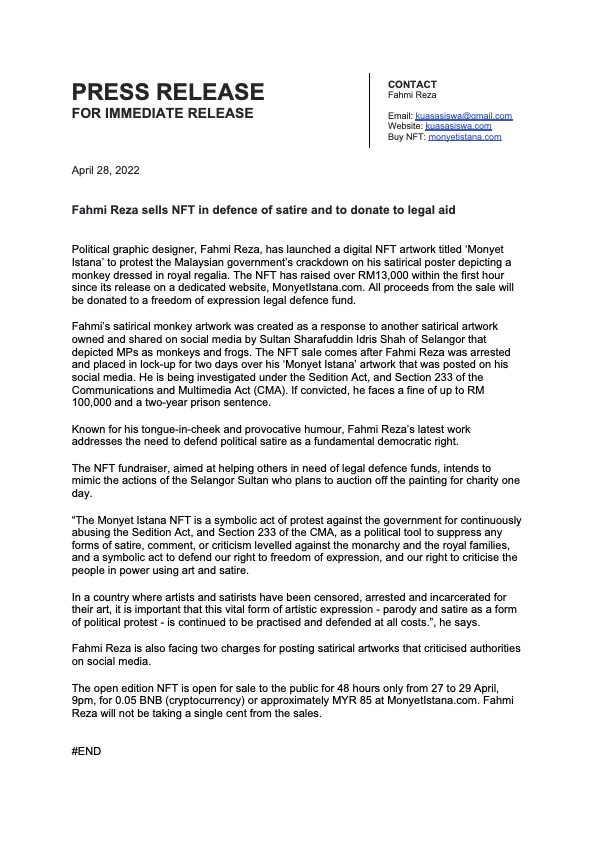 ---
Update, the 14th of April 
The Malaysian cartoonist Fahmi Reza was once again detained and interrogated for a satirical cartoon.
The recurrence of these arrests, which led the cartoonist to ironically create his own loyalty card, is a form of harassment that reflects a worrying narrowing of democratic space in the country, as Global Voices reported earlier this year.
---
The 10th of March 2021
Malaysian cartoonist Fahmi Reza under police investigation for defamation.
Malaysian cartoonist Fahmi Reza is under investigation by the police for defamation against Health Minister Dr Adham Baba, probably as a result of a cartoon he realised last year. The police summoned him for interrogation at the Putrajaya district headquarters on 10 March and he emerged free.
In an interview with the Malay Mail newspaper, Putrajaya district police chief Assistant Commissioner Mohd Fadzil Ali, explained that the police investigation was relating to a cartoon published in October 2020 on the cartoonist's social networks, depicting Health Minister Dr Adham Baba in a setting reminiscent of a research notice and entitled "Hilang", which means "missing" in Malay. He also confirmed that the investigation was opened under Section 500 of the Malaysian Penal Code on defamation, punishable with up to two years' imprisonment and a fine, as well as under Section 223 of the Communication and Multimedia Act. In May 2020, Pen International's Malaysian office had denounced the abusive use of Section 223 to silence dissenting voices in the press and on social networks.
Reza posted his summons, sent by the police the day before his interrogation, on his Instagram account, explaining that he did not know which cartoons were incriminated. The cartoonist assumes that it is both the October 2020 cartoon, mentioned by the chief Assistant Commissioner, and another publication from February 2021.
The defamation investigation is still ongoing and there was no mention of legal proceedings to date. Cartooning for Peace is following the progress of this investigation, hoping that it will soon be closed.