After a first publication in September 2016 "Editorial cartoons : a state of affairs", Cartooning for Peace and Editions Gallimard collaborate once again to publish a collection of albums dedicated to editorial cartoons. Royalties are donated to Cartooning for Peace to support threatened cartoonists.
"There are so many fascinating topics, commented on here in a disturbing, relevant and caustic way by our top-level preface writers", said Plantu, cartoonist for Le Monde and L'Express, and President of Cartooning for Peace. (AFP)
---
Place aux femmes !

(Make way for women!)
Press cartoonists have often seized on the issue of women to denounce, with humour, the inequalities and injusticies of which women are currently victim all around the world.
After the preface wrote by Elisabeth Badinter, elder stateswoman of feminism, a sixty strong selection of cartoons establishes a picture of the many problems that women encounter in terms of education, sexuality, work or religion.
Elisabeth Badinter has a higher degree in philosophy. Specialist of the Age of Enlightment, she pays a particular attention to the evolutions of customs and mindsets. Committed to the feminist cause, she is the author of many books, such as the recent Le Pouvoir au féminin, Marie-Thérèse d'Autriche, 1717-1780 (Flammarion, 2016).
---
Désunion européenne

(European disunion)
Daniel Cohn-Bendit, staunch europhile, looks back on six decades of European construction. The cartoonists shed an international light on the political, economical and ideological problems which European leaders and citizens face today.
Daniel Cohn-Bendit is a journalist and political leader. He was an MEP from 1994 to 2014 and co-president of the Greens-European Free Alliance group in the European Parliament from 2002 to 2014. He has a daily spot each morning on Europe 1 radio in which he comments on current affairs.
---
Tous migrants !

(All migrants !)
Since 2014, a million and a half migrants have reached the European Union. Benjamin Stora tells of the long journey of these refugees from the reason of their exil to their everyday life in their host countries. The sixty editorial cartoons give an international point of view on this migratory phenomenon which is unprecendeted in modern history.
Benjamin Stora is a university lecturer and board member of the Immigration History Museum (Paris). Specialist of the contemporary history of North Africa, he is the author of many books, such as Histoire dessinée de la guerre d'Algérie (Le Seuil, 2016).
---
DéTrumpez-vous !

(Trumping Trump!)
These past few months, the new USA President became one of the major topics for editorial cartoons. In his text, Eric Fottorino looks back on Trump's election and the sixty cartoon selection gives an international point of view on the 45th President of the US.
Eric Fottorino is a journalist and author. After twenty five years working for Le Monde, he is, since 2014, co-creator and publisher of the weekly magazine Le 1. He is also the author of many essays and novels, such as Trois Jours avec Norman Jail (Gallimard, 2016)
---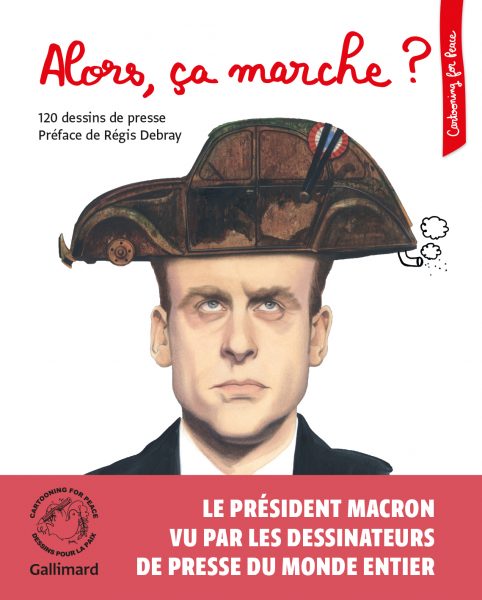 Alors, ca marche ?

(So, is it working?)
After a chaotic election campaign marked by scandals and the internal division of the two major political parties in the country, French people finally elected last May their new president: Emmanuel Macron. This new political actor's personality is as much intriguing than a subject to criticism. Who is really Emmanuel Macron? What is his project for France?
Editorial cartoonists from all around the world share their points of view on the new French president in this special-edition, published in Cartooning for Peace and éditions Gallimard collection – available in French bookstores from October 12th 2017.
In this album, writer and philosopher Régis Debray reviews the 100 first days of Emmanuel Macron. A selection of 120 political cartoons complete his commentaries, exploring each step of the quinquennat's beginning.
---

Ça chauffe pour la planète !

(It's getting warmer for the planet !)
Cartoonists from all over the world raise the alarm on the state and health of our planet !
Now that the US decided to withdraw from Paris climate agreement and our annual planetary ressources are consumed in less than 8 months, it may be a good time to question the health of our good old Mother Earth. Cartooning for Peace raises awareness about environmental issues through a selection of 60 editorial cartoons from all over the world in a brand-new album. Thematic sections explore challenges of global warming, consequences of natural disasters and renewable energies for example.
The preface was written by Yann Arthus-Bertrand profoundly committed to the environmental cause through his photographic work, the production of documentaries and his foundation's actions, Good Planet.
---
Poutine super tsar

(Putin Super Tsar)
On the eve of Russian elections, retrospective in cartoons on the Putin years
Russian people are going to vote for their new president next March. Vladimir Putin, master of the Kremlin, is leading the country since 2000. How to review the Putin years so far? What would he eventually leave to his successor, if successor there is? A selection of 60 editorial cartoons gives an international point-of-view on his controversial actions, as Russia's external relations with the rest of the world became more and more tense during the past few years. In his preface, Eric Chol – managing editor of French weekly magazine Courrier international – paints an objective and documented portrait of who can be described as a central character of Russian's political scene.
---
Les inégalités dans la balance

(Inequalities in the Balance)
Press cartoonists around the world denounce socio-economic injustices
While the number of people living below the global poverty line has declined significantly in recent years, the gap between the living standards of the poorest and the wealthiest continues to widen. Cartoonists alert us to this phenomenon and invite us, through a selection of 60 drawings from the international press, to a collective awareness of the economic and social inequalities of our time. The preface is written by Thomas Piketty, an internationally renowned economist and author of several successful books.
---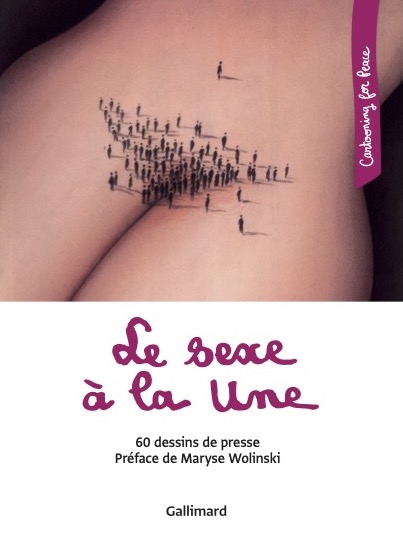 Le sexe à la Une

(Sex on the Front Page)
An overview in drawings of contemporary sexuality
At a time when the voices of victims of sexual harassment are being heard after the Weinstein case, cartoonists are accompanying this shift in consciousness by questioning what sexuality is about today. A selection of 60 press cartoons from all over the world explore the concepts of taboos and pleasures, but also love and, sometimes, violence. The preface is signed by Maryse Wolinski, journalist and writer. Engaged in the feminist revolution, she is the author of several stories and novels.
---
Les droits de l'Homme, c'est pour quand?

(When Are Human Rights Due?)
70 years after the adoption of the Universal Declaration of Human Rights, press cartoonists around the world are defending justice and freedom for all.
Adopted in December 1948, the Universal Declaration of Human Rights identifies the fundamental rights of all human beings, including non-discrimination, the right to housing, education, medical care, freedom of opinion and expression, the free movement of persons… 70 years after the signature of this founding text, what about human rights? Press cartoonists take part in the tireless fight for justice and freedom and denounce human rights violations, particularly in Syria, Yemen, Turkey, China, Egypt, Venezuela and Southern Sudan.
In this album, Christiane Taubira, former Minister of Justice under the presidency of François Hollande, gives her point of view as a committed defender of human rights. The selection of 120 cartoons reflects: rigged elections in Egypt or Russia; chemical weapons used by government forces against the Syrian people; the fate of migrants in the Mediterranean; violence against women… All these examples show us that the ideal of human rights has yet to be achieved.
---
Il va y avoir du sport !

(Let's go for some sports!)
A drawn overview of the sports planet. 
Sport is a unifying element, a vector of social cohesion and living together. While major events are capable of bringing citizens and nations together, the sports world is regularly marred by various scandals: doping, racism, corruption, etc. But are the failings of sport sport sport?", asks committed footballer Vikash Dhorasoo.
Vikash Dhorasoo is a former international footballer. Selected for the French team for the 2006 World Cup, he filmed his daily life as a player and made a documentary, Substitute. He is now a football consultant for radio and television. He recently published his autobiography, Comme ses pieds (Seuil, 2017). He is also co-founder of the Tatane association, which defends "a sustainable and joyful football", and ambassador of Oxfam France.
---
Dans la jungle de l'info

(In the jungle of information)
An inventory of the media and information situation today.
In an era of fake news, information piracy, the influence of social networks, conspiracy theories, and the preponderance of marketing over editorials, Christophe Deloire (Secretary General of Reporters Without Borders) reiterates the urgent need to preserve free, independent, reliable, verified and plural information.
The preface to this book is written by Christophe Deloire, Secretary General of Reporters Without Borders (RSF) since 2012. In November 2018, he initiated the International Declaration on Information and Democracy. He was Director of the Journalists' Training Centre from 2008 to 2012. He also worked for Le Point magazine from 1998 to 2007, and for the television channels Arte and TF1.
---
Les Droits de l'enfant, c'est maintenant !

(Child Rights, now!)
30 years after the adoption of the Convention on the Rights of the Child, press cartoonists around the world are defending the justice and freedom of the youngest.
In November 1989, the United Nations adopted the Convention on the Rights of the Child, which recognizes children as human beings in their own right, with fundamental, compulsory and non-negotiable rights: the right to be cared for, to go to school, to be fed, to be protected from all forms of abuse and exploitation, not to wage war, nor to suffer it… The consensus is unprecedented, it is the most widely and rapidly ratified human rights treaty in history!
Yet 30 years later, what about the rights of the child? Taking part in the tireless fight for justice and freedom, press cartoonists denounce violations of children's rights, whether in Syria, Nigeria, China, Gaza or France. This book contains 120 press cartoons from all over the world, in partnership with Amnesty International, with a preface by Jacques Toubon, Human Rights Defender.
---
En avant toutes!
120 international press cartoons highlight women's struggle for equal rights from #MeToo and denounce violence against women around the world, preface by Laure Adler in partnership with Amnesty International.
In 2017, the #MeToo movement called for the liberation of the voice of victims of sexual harassment. Millions of women around the world spoke with one voice to bear witness to the abuse they may have suffered. Today, what conclusions can we draw from this episode? If our society seems to be engaged in a necessary reflection on the status of women, with equality between women and men as its horizon, respect for the rights of each woman is still far from being guaranteed in France and in the four corners of the globe. Selected by Cartooning for Peace, 120 international press cartoons come back to women's rights in the world after #MeToo. While participating in the denunciation of injunctions and violence against women, they support feminist struggles and their determining issues.
---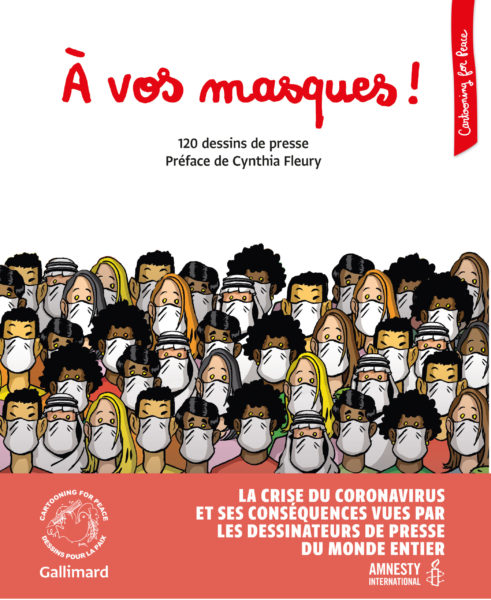 A vos masques !

(On your masks!)
120 international press cartoons return on the coronavirus crisis and alert us to the world of tomorrow.
In recent months, the spread of the Covid-19 disease has led to the containment of more than half of the planet, radically changing our daily lives.
Since the beginning of this unprecedented crisis, the association Cartooning for Peace, whose network of cartoonists extends to 67 countries on all continents, has collected hundreds of press cartoons every day that report on the international situation.
For this book with a preface by Cynthia Fleury, the 120 most striking cartoons were selected. Coming from all over the world, they help to understand the stakes related to coronavirus, a health challenge whose political and economic consequences are already very important.
Among the themes addressed: a global pandemic, health under test, a confined life, politics in the face of the health crisis, a major economic impact, the planet is breathing, the post-Covid-19 era…
Cynthia Fleury, philosopher and psychoanalyst, is Professor of "Humanities and Health" at the Conservatoire National des Arts et Métiers. Holder of the Chair of Philosophy at the GHU Paris Hospital "Psychiatry and Neurosciences".
In partnership with Amnesty International.
---