1 December 2022
Bolivian cartoonist Abecor,
 received
 the Journalism Award from the La Paz Press Association in the Cartoon category, for the cartoon about the prosecutor Wilfredo Chávez published on 18 October 2021 in the newspaper 
Pagina Siete
 and for which he received
 death threats
.
The support of his fellows is a meaningful message for the cartoonist and his newspaper, which are still under death threats today.
---
19 November 2022
The cartoonist Abecor is once again the victim of death threats on social media. His newspaper, Pagina Siete, has also been targeted.
As the newspaper Pagina Siete points out, the cartoonist has been the target of death threats more than five times since April 2020. And this time, the threats also refer to his family.
The cartoonist and his family were threatened via private Facebook messages between the 12th and 18th of November. The artist and the newspaper made the messages public: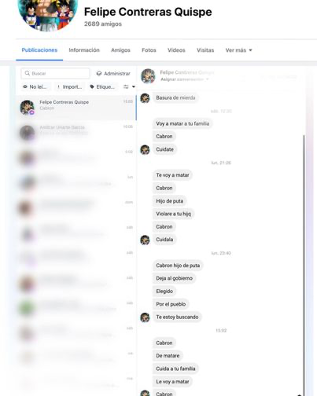 "I'm going to kill your family, you bastard, take care of yourself," reads one of the many private messages on Felipe Contreras Quispe's account.
The same account, which has not published since July 2021, is responsible for sending many similar messages to Pagina Siete: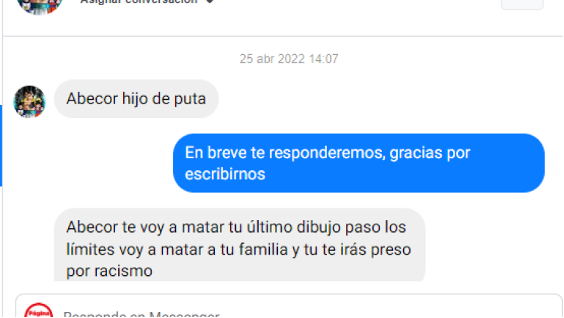 "Abecor, you son of a …."
"Abecor I'll kill you I'll kill your family and you'll go to jail for racism."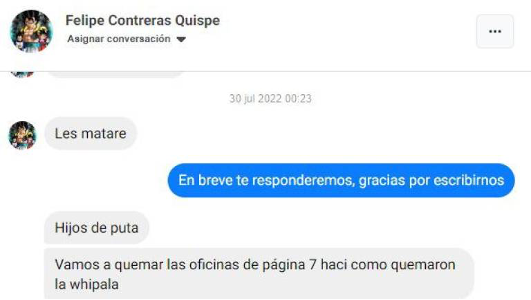 "Son of a …. the government must close Página 7", he published on the 27th of April 2022. "We will kill your families if you don't close Página 7," he warned last July.
Earlier, he wrote: "I will kill you Abecor, I will rape your daughters and all the b…. of Página 7, I will rape them".
Highly violent threats whose reason is not clear to the cartoonist and which were condemned in the press and by many organisations, including the National Union of Journalists of Bolivia (ANPB) and the Union of Journalists of La Paz (APLP), but did not lead to any reaction from the Bolivian authorities to date, despite several contacts taken by the newspaper. To date, no official complaint has been filed.
Following death threats in recent years, the cartoonist had already sent letters "to government ministers Arturo Murillo (2020) and Eduardo del Castillo, but has never received a reply," as Pagina Siete recalls. This time, in order to get answers and set a precedent, the newspaper will file a complaint with the Attorney General of the Republic this week.
Cartooning for Peace joins the chorus of condemnations and calls for firm and rapid action by the authorities, so that an investigation is carried out as soon as possible and the death threats against the cartoonist and the members of Pagina Siete are stopped once and for all. As we celebrated the International Day for the Elimination of Impunity for Crimes against Journalists on 2 November, UNESCO recalled that "impunity damages entire societies by covering up serious human rights abuses, corruption and crime.