Update – 8 October 2021
Cartooning for Peace welcomes the news of the release on bail of Optatus Fwema this Friday 8 October. According to his defence lawyer, Mr Shilinde Swedy, the parole hearing initially scheduled for Monday 11 October for Bail Hearing Application at Kisutu court finally took place this Friday at the resident magistrates court of Kivukoni at Kinondoni after he was read with the charge of publishing false Information contrary to Section 16 of the Cyber Crimes Act CAP 14 R.E 2015.
Cartooning for Peace will continue to follow the case, hoping that the cartoonist, who was arbitrarily arrested and imprisoned for nearly two weeks for "a simple satirical drawing of the country's leader" (see RSF press release), will be quickly acquitted.
---
04 October 2021
Tanzania alert – Cartooning for Peace condemns the arrest and imprisonment of cartoonist Optatus Fwema for cartoon.
On 4 October, the East African Cartoonists' Society, Katuni, issued a statement informing of the arrest and imprisonment of cartoonist Optatus Fwema at Oysterbay police station, Dar es Salaam, Tanzania. It was followed by the Tanzania Human Rights Defenders Coalition (THRDC).
Arrested at his home on 23 September and interrogated without any legal representation for cyber offences for a cartoon posted on his social media, he is still in prison today, well beyond the 48 hours of custody allowed by law. According to Katuni's statement, he has been denied bail. Since Yesterday, he is defended by a lawyer from the THRDC and will be presented in court tomorrow, 5 October 2021.
The cartoon depicts the current and 6th President of the Republic, Samia Suluhu, as a child hitting the water in a basin with the colours of the flag. With his back to her, the 4th President of the Republic, Jakaya Kikwete (renamed Kiwete – the crippled one – on the back of his suit) addresses the population: "She ensures a good leadership of the country". According to the interpretation given to Cartooning for Peace by an observer, the cartoon is meant to criticise the current president's poor management of the country and the previous president's effort to protect her, who is seen by many as her mentor. The joke about his name also tends to ironise his management of the country's affairs when he was president.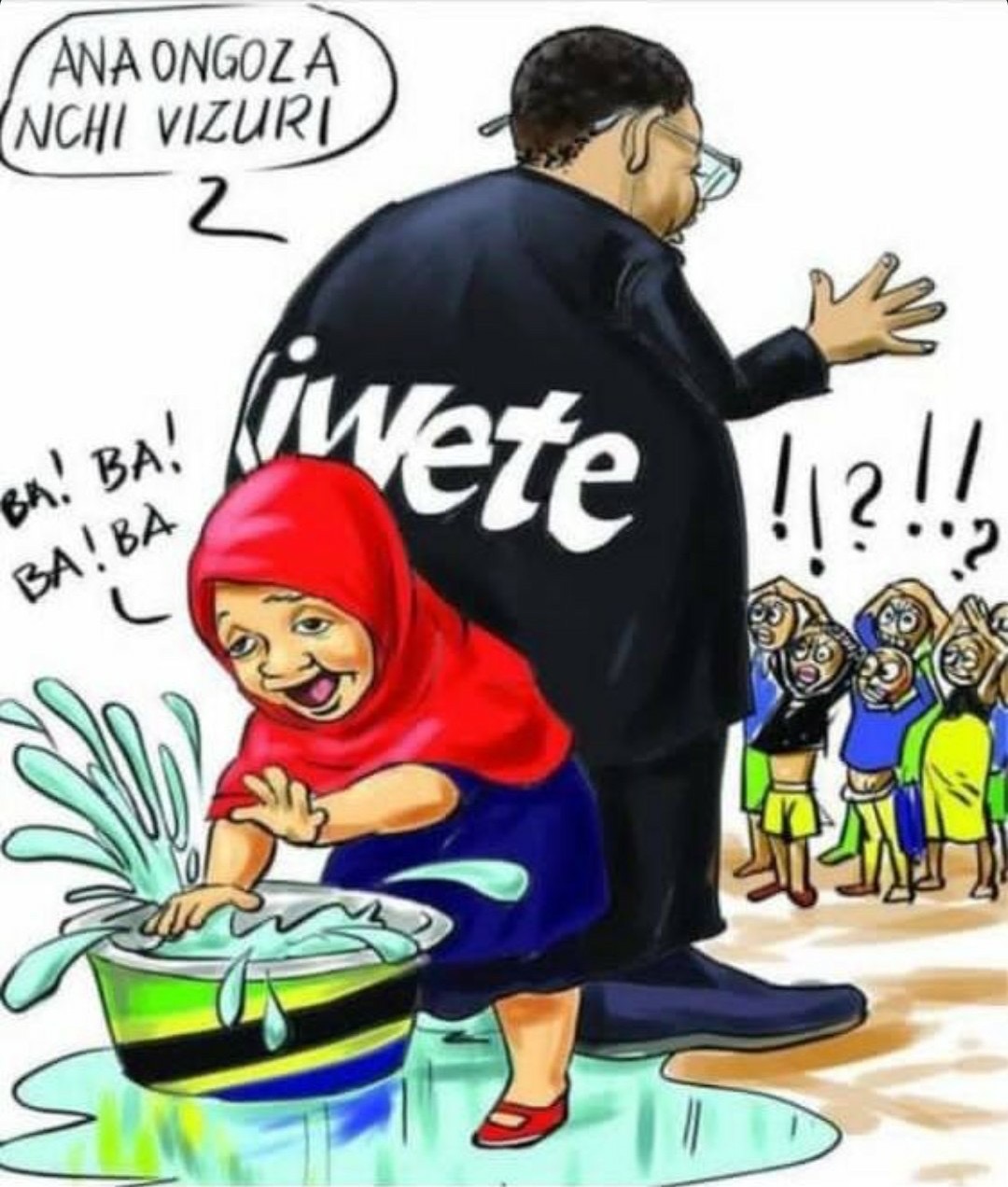 Cartooning for Peace condemns the arrest and joins the demands for the immediate release of Katuni and the THRDC. Indeed, the imprisonment of the cartoonist for a satirical cartoon without any apparent reason is illegal. Tanzania is ranked 124th in 2021 RSF's press freedom index.
See KATUNI's Statement:PRESS STATEMENT ON OPTIPUS FWEMA (2)
See the Tanzania Human Rights Defenders Coalition's statement (THRDC):STATEMENT CONDEMNING ARREST AND DETENTION OF CARTOONIST