Israeli cartoonist Avi Katz was informed by The Jerusalem Report magazine, for which he had been freelancing since 1990, that they would no longer publish his cartoons, after he posted a cartoon on his Facebook page before the magazine published it. Members of the Israeli government are portrayed as pigs, under the legend "All animals are equal but some are more equal than others", a famous quote from the satirical novel Animal Farm by George Orwell.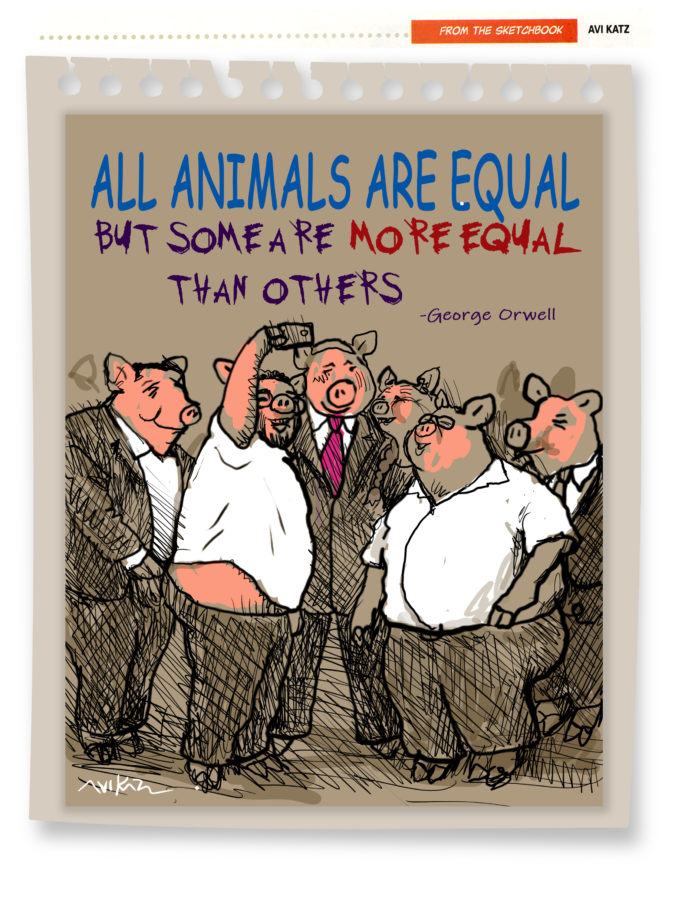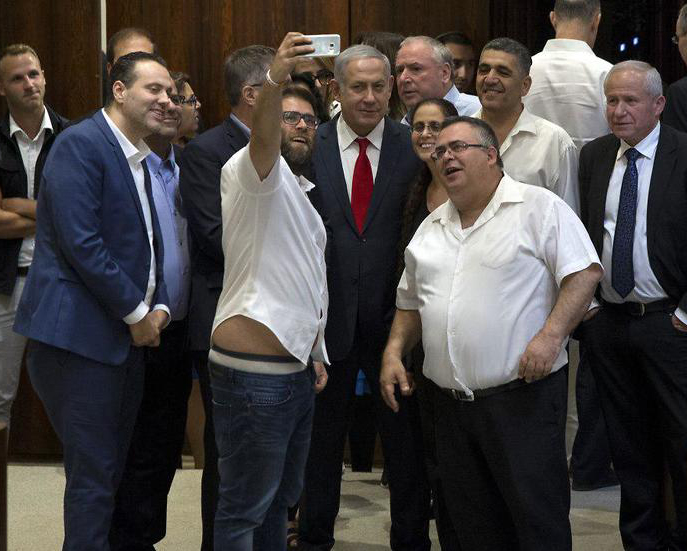 © Oliver Fitoussi
The cartoon refers to a photo of Benjamin Netanyahu and members of the Likud taking a selfie after the adoption by the Knesset of the controversial nation-state law which sanctions Israel's status as a Jewish nation-state. A law deemed discriminatory against non-Jewish populations in Israel, the Arabic language for instance losing its status as an official language.
Posted on Facebook by its author before its publication by the Jerusalem Report, the cartoon became viral and provoked numerous reactions, mainly about the representation of politicians as pigs, considered anti-Semitic and shocking in Israel, the pig not being kosher.
The magazine's editor, who initially validated the content of the cartoon, then warned Avi Katz of his intention to stop publishing his cartoons, under pressure from the newspaper's management, furious at this early publication. In a statement quoted by the Times of Israel newspaper, members of the Jerusalem Report explain that "following editorial considerations taken by the editors, it was decided to no longer publish his drawings, after several of them provoked negative reactions". Haim Watzman, a journalist for the magazine, whose writings regularly accompanied Katz's drawings, resigned in response to Avi Katz's eviction, and the cartoonist received widespread support from other Israeli cartoonists such as Michel Kichka and Uri Fink, the Union of Journalists in Israel and international organisations such as PEN America. Finally, it should be noted that Nissim Hezkyahu, founder and former president of the Israel Cartoonists Association and artistic director of the ANIMIX press and comics cartoon festival to be held for its 18th edition in Tel Aviv in August 2018, is organizing an exhibition of drawings in response to the dismissal of Avi Katz and will release a unique special issue that will bring together all the drawings on display.
"The Pig Elite – the only satirical journal of the exhibition between freedom of expression and political piggery (free translation)
Cartooning for Peace is shocked by this decision that represents an attack against freedom of expression. In its view, it reflects a growing phenomenon of the emotional response of newspaper editors to controversies emerging on social networks and of which press cartoonists are often the victims. Recently, the German cartoonist Dieter Hanitzsch was also fired by his newspaper for a cartoon of Benjamin Netanyahu considered anti-Semitic by his critics.
However, as Israeli cartoonist Michel Kichka reminds us on his blog, the representation of Israeli politicians as pigs has not prevented similar drawings from being published before, such as this drawing by Ze'ev, published in 1980 on a full page of the Haaretz newspaper supplement. Prime Minister Menachem Begin, Ariel Sharon and the other ministers can be seen drawn in the guise of the pigs of Animal Farm.