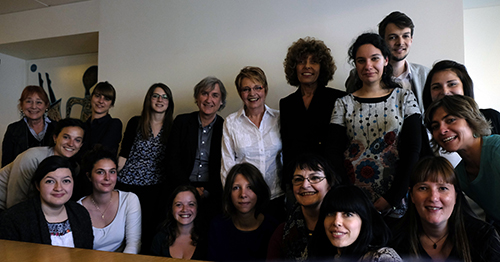 In almost 10 years of existence, Cartooning for Peace has kept developing, growing and promoting debates and opinions through press cartoons! More than ever, Cartooning for Peace needs a team of volunteers to multiply its actions and animate its international network.
Your expertise in research and information awareness, translation and communication, your curiosity and your attachment to our values are essential to the continuous growth of our association. Our team of volunteers is currently assigned to various missions:
Teaching committee and translation
Mission: To provide advice on the educational tools of the association (booklet for teachers, and pupils) and translate some of our educational and institutional material (in English, Spanish and German).
Warning and advocacy monitoring
Mission: make a careful watch on freedom of expression throughout the world, write notes on specific requests from the team on endangered cartoonists or prevented from working.
Cartoon Library
Mission: Help the team filing the international press cartoons received each day.
Communication and events
Mission: Helping from time to time on specific actions (mailing, contact file updates, etc.) and/or on events (public reception, promotional stands animation, etc.)
If you wish to join the Cartooning for Peace volunteers team, do not hesitate to contact us : contact@cartooningforpeace.org
Welcome to the Cartooning for Peace adventure!
And a huge thank you to those who have already joined us!